The history of the bicycle has always had more to do with the possibilities of technology than with the needs of man. Since the forester Freiherr Drais von Sauerbronn received the "Baden Privilege" for his wooden running machine in 1818, there has been a lot of mucking about: wood was replaced by steel, running wheels became first high and then low wheels, after solid rubber tyres came pneumatic tyres, etc., etc. Technology developed further - the human being fell by the wayside ... The detached high-performance fetishism of racing bikes or mountain bikes set and still sets the tone. Our everyday bikes are - in principle - tamed sports machines. The short wheelbase of road bikes or mountain bikes and the associated bent sitting posture is elevated to a principle. Even cyclists are expected to conform to the dictates of sportiness. Thus the bicycle itself stands in the way of its greater use:
It enforces athleticism where comfort is desired,
it confuses health with show fitness,
it elevates awkwardness to a principle,
it defames practicality and suitability for everyday use.
Part of the bicycle industry restricts the use of bicycles to sport and leisure. At a time when there is much talk of car-free inner cities, this seems to us to be too short-sighted. In addition: the one-sided car-oriented traffic and urban development policy also contributes to the obstruction of cycling.
Utopia has found new ways ...
We at Utopia build bikes for everyday use. And that is to be understood literally: Bikes for all days. For the way to work, to kindergarten, for shopping; for days with a lot of wind and unfriendly weather, even for days with ice and snow. Of course also for sunny days and fragrant spring evenings. Accordingly, our bikes have to be versatile, resilient and of high quality. You won't find fashion bikes with us. We let the racing bike wave ("racing without resting") pass by just as unmoved as the mountain bike wave ("cross-country through every nature conservation area"), which is already subsiding again.
Our bikes for everyday use are individually manufactured. So that you can design your everyday life individually. One way or another. An offer for people who attach great importance to quality and sophisticated technology: We closely examine all new developments in bicycle technology. So that the exhaust-free, healthy and ecologically most sensible means of transport becomes even more comfortable, even safer, even more self-evident.
New ways in frame construction
With cross-mixed frames such as the London and the Kranich, we want to combine stability with a comfortable step-through. This leads to our own developments and individual construction methods. These elaborate frames for tall, short, heavy and light can only be made by hand by experienced frame building technicians. We do not aim at cost reduction by automatic mass production of always the same products. We work on intelligent solutions that lead the way in terms of riding comfort, safety and durability."
Abridged text from RadRatgeber No.1 from 1986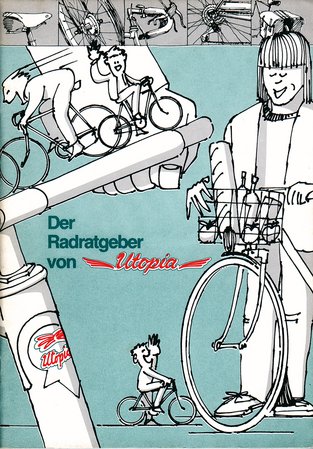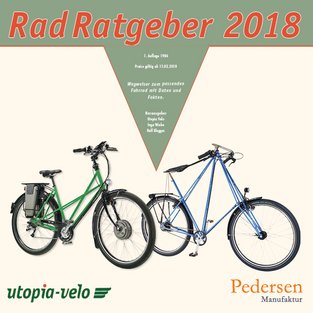 Utopia Velo & Pedersen stand in the tradition of classic frame building.
There is a lot that is written in the 1986 RadRatgeber that still applies today. Utopia Velo has been involved in many successful developments in its 36-year history, but always based on classic frame building. We are proud of this.
Our goal was and is: We want to build "bikes for everyday use" that offer riding comfort, safety and durability and are individually equipped. You should feel comfortable on it and enjoy riding it, no matter how big, heavy, young or old you are. Today, more than ever, that is utopian!
Contrary to the trend, we have increased the variety of frame geometries even more. For example, you will find bikes with a very long wheelbase for more upright sitting almost exclusively from us.
Like Pedersen Manufaktur, we are one of the last companies in Europe with our own frame construction and high vertical range of manufacture.
We are and remain an artisan manufactory. For 34 years our frames have come from the Netherlands from master frame builder Wim Hoefman (now Rainbow Industry). Together with him, new techniques have been integrated over the years and the frames have been constantly updated.
We don't follow the dictates of sportiness for everyday and touring bikes, but rather think: More riding pleasure comes to those who ride with pleasure and enjoy comfort. That's what we build the Utopia and Pedersen bikes for.